We've all had the experience of running down the trail, working out in the gym, or riding a bike and suddenly, your earbuds fall out, stop working due to getting wet, have bad/choppy sound, and a host of other irritable problems.
With these issues in mind, I thought to myself, "What are the best earbuds on the market?"
For a long time, I ran with a pair of Bluetooth capable Motorola S10-HD Bluetooth Stereo Headphones that are available on Amazon and other stores for about $40. They worked well for other than bouncing activities and were very reasonably priced and, but I hated the bouncing of the center piece on the back of the neck; they also occasionally produced choppy noise interrupting that favorite part of a song. But, given the price, I kept them until they quit working; about 3 years. Having had my own band for 8 years in college during my BS and first master's degree, good quality sound has always been important. Thus, my quest to find good earbuds at a nominal price began.
Advertisement: Motorola on Amazon (click on photo for more info)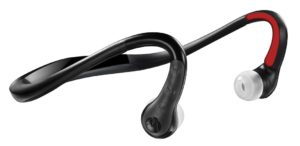 To rid the choppy noise problem, I bought a wired set of headphones that worked really well. These were the Sennheiser OCX 686G Sports. Sound quality was clear, they wrapped around the ear and were overall great. Sometimes the wire would get in the way during workouts for special ops fitness and related activities, but I loved them. I still use them on occasion.
Advertisement: Sennheiser (click on photo for more info)


I started asking friends and fitness buddies what they thought were the most important features for earbuds. From lifting weights in the gym, running, CrossFit, track and field, biking, hiking, and all kinds of other activities, the responses came in. There were too many features in the responses to list, but I narrowed them down to the top 6 from each responder. The earbuds were compared looking at the following features, i.e., must haves for the perfect earbuds.
The main features, in order from my survey responses included:
1. The ability to stay in place (fit your ears) during any exercises; it became evident a wrap-around ear design would likely be best and fit of the earbuds was top of the list for everyone's priorities;
2. Bluetooth capability, wireless preferred; but, some of us need to grab and go without waiting for Bluetooth earbuds to charge, thus, wired is the other choice – you can have both;
3. Good sound that remains steady without choppiness and static;
4. Water proof/resistant for when you get caught out in the weather and still need them to perform. Interestingly, most earbuds warranty becomes void if you get them wet;
5. Ability to access your music with up/down volume and jump to next song controls – but, the controls need to be simple and easy to operate while exercising; and
6. Talk capability for your phone was necessary, after all, it's a busy world and we constantly may need to squeeze something in without sitting around waiting for a call.
While there were other issues of importance, the above were the top 6.
After looking at about 50 different brands of earbuds from wired to wireless it came down to two choices. First choice was the Epic2 from JLabAudio and the second choice was the JBirdX2. The JBirdX2 worked great but placing them comfortably in the ear and keeping them there without worry knocked them out of the top spot.
Thus, my recommendation to you is that if I wanted a pair of wireless headphones for working out, I'd get the JLab Epic2 Bluetooth. This pair of earbuds is on the lower end of the price range for Bluetooth water-resistant types and was an important need for those who are die-hard runner and cyclists that go out no matter the weather. The Epic2 supports Bluetooth so, there is no cord to get in the way although, there is a very short cord (adjustable with clips) that goes around the back of your neck.
Advertisement: JLabAudio (click on photo for more info)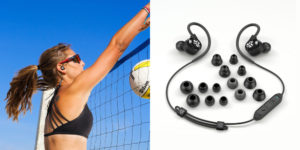 I tested this model and loaned it to friends to test as well – in the gym, sprinting, biking, running, and just about everything but swimming. We all found the Epic2 to be well made, good quality sound, sturdy construction, static free, able to answer calls from your smart phone, easy to select music and volume. In fact, there are only three buttons to use to manipulate volume, song selection, and on/off and answering calls. I even gave them to a gymnast friend that I train who put the earbuds through all kinds of gymnast routines from pommel horse to floor exercise and they didn't come off once or malfunction in any way.
The Epic2 headphones also sound great and mine kept a charge (listening to music with some phone conversation for about 12-hours before requiring a charge again. After charging about 30 times, this seemed to be about the average battery life no matter who of my friends used them. So, for the typical runner or work-out-aholic, this will give you about 2.5 hours per day for the week, excepting weekends without a charge. That's good. battery life, meaning you can get nearly two weeks' worth of workouts from a single charge.
Having had my own band, sound was very important to me. For earbuds, the driver within the earbud is what makes the quality sound you hear. For most earbuds, the driver is 4-5 mm, but for the Epic2, it is 8mm, pretty much the largest on the market for the size, until you get into over-ear headphones, which aren't practical for fitness. JLab Audio who makes the Epic2, call the technology they use C3 (Crystal Clear Clarity). Our experience is that their technology delivers a clean, crisp, sound. For those with good hearing you'll definitely be able to distinguish highs, mids and a pumping bass through the high-performance 8mm drivers. And, as I said, these drivers are about 50 percent larger than the competition. The size of these drivers is what both gives much better sound, but also why the earbuds are more than the lower end $50 for a good pair. The Epic2 also has an upgraded Bluetooth antenna that pretty much eliminates static, providing skip-free tunes, even for the most demanding fitness buff or professional.
If you are the type that gets annoyed by cables and don't mind needing to remember to charge your earbuds and are willing to pay a little extra for the convenience, the Epic2 earbuds are a great piece of technology to add to your fitness gear. If you don't like to charge, go with the wired Sennheiser's described above; you'll find they are a good choice as well.