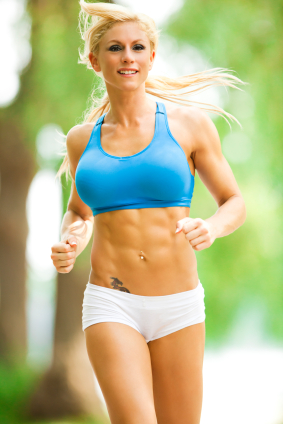 What puts health and fitness myths in our minds? For most, it is the huge volume of the "get-skinny-quick" product ads, celebrity workouts, and constant bombardment that you should look like a specific Hollywood celebrity. Everyone wants the easy way out; a way to get from being out of shape and overweight to that spectacular beach body they see on the cover of the latest health and fitness magazine. "There is no magic pill or panacea." And, there are those 7 big fitness myths, without foundation, that everyone knows about. Let's explore them.
Muscle weighs more than fat!
This is generally misconstrued—muscle is denser than fat. In fact, a pound of fat is the same weight as a pound of muscle but, the volume that muscle takes up as a proportion of the body is much smaller than if that same portion is taken up by fat. This is good news for women who lift weights and may gain 3-4 pounds of muscle mass; despite the weight gain, your clothes will still fit looser, i.e., you will go down in clothing size. Another benefit of muscle—it is significantly more vascular. This means that more muscle provides better blood flow and therefore, more oxygen supply than body fat. This will help you stay more alert and less tired during the day.Having more lean muscle will help you burn more calories while at rest and will allow you to recover faster from soreness due to exercise and other activities. Thus, the more muscle you have, the less fat you'll have and the easier it will be to maintain a constant, desired weight. This does not mean that you need to look like the "Incredible Hulk" or Ms. Olympia it simply implies that combining strength/resistance training with aerobic exercise is best for long term health maintenance and fighting the battle of the bulge.
Weight lifting will make me bulk up, especially if I'm a woman!
Women who lift weights will get bulky muscles, is something heard in every gym. Actually, most women generally do not have enough testosterone to develop large, bulky muscles without chemical help. Strength training alone will not cause women to build large muscles unless lifting extreme loads. Among men, there can be a preponderance to gain muscle mass by lifting weights. Again, this is usually for the short term unless the person is lifting very heavy weights. A long-term regimen of weight lifting will result normally, in a strong lean body. The key to less bulk is to use decreased weight loads during exercise. Perhaps the largest part of this myth is the claim that we gain weight when we lift weights. This is true but, the weight gain is associated with an increase in muscular density, not in general body size and then, only initially through increased density of your muscle mass. Many women who lift regularly actually gain a small amount of weight, but wear a reduced clothing size due a displacement of fat by lean muscle mass. So, don't fret about lifting and have fun doing it. Does it matter if you gain 3-5 pounds due to increased muscle density but you look great and wear smaller sizes in clothes? Let's look at my friend Ami who I trained for 2 years with the goal of building lean muscle mass. Despite her lifting heavy weights, 1/2 to over her body weight regularly for 5-days per week, Ami did not and has not developed large muscles and is the epitome of what many women want to look like. I remember when she competed in a regional Fitness and Figure competition in Boulder, Colorado. I have about 7 women sitting around me when Ami walked out in a royal blue, sequined outfit. There was a sigh as multiple women said, 'that's what I want to look like, we want her body." Some of Ami's photo's are below – she never complains about lifting too much weight – her average squat was around 150 pounds and she could bench more than her body weight – she's 5'7″ so you can guess what that may be.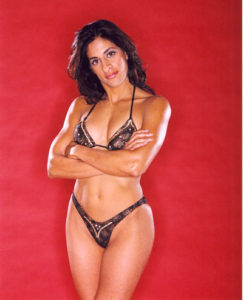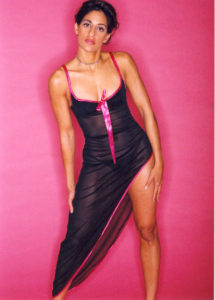 Tip: If you think you look and feel okay, that is all that really matters.

Spot reducing for fat is possible!
If you believe this or succumb to ads that proclaim this, I have a great piece of real estate in New York City called the Empire State Building that I'd like to sell you for the price of $10 million. Guess again. It is not possible to "burn off" fat on one specific body part by exercising that area or other areas of the body. When exercising and using a good nutritional regimen, fat burns from various areas of the entire body. Let us separate the body into two zones: (1) from the shoulders, downward to waist; and (2) from the knees, upward to waist. Generally, fat will burn from the shoulders down toward the waist and from the knees up toward the waist. As a rule of thumb, we typically notice fat loss first in the upper shoulder area. The fat around the mid section will always be the 'last' to completely go. But, even if we look at these two zones, fat is burning from all over the body all the time—as long as you are losing weight, i.e., burning fat. Only regular exercise that includes both aerobic and strength-training exercises, combined with a sensible diet can melt body fat well. Aerobic exercises are those such as jogging, treadmill, walking, etc. The best fat burning exercises are high intensity, short duration such as speed sprint types of exercises.
Advertisement: Nordictrack (click on photo for more info)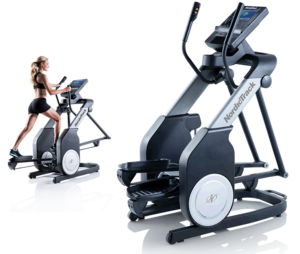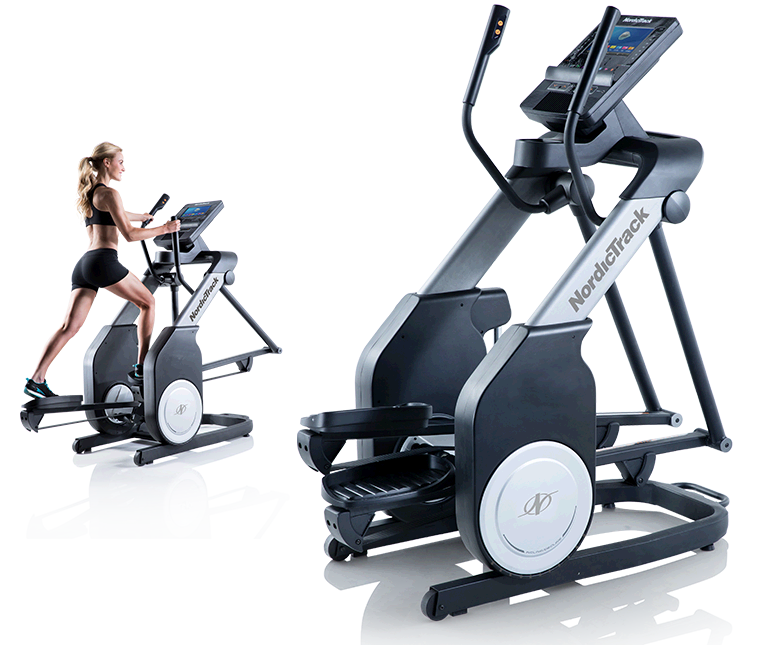 No pain, no gain!
Exercising to the point of pain can harm you. But, this does not mean you cannot push yourself a bit, to tax your heart, lungs, and muscles and bones, you just need to be sensible about it. Ideally, you should work out so that you have at least a mild sweat throughout the workout for about 30 minutes (this is 30 minutes of workout time not including resting time). Many people believe that exercising at lower intensity is best for burning fat. In reality you'll burn a greater percentage of total calories, which includes fat calories, when you exercise at a higher intensity. However, don't risk an injury; gradually increase your intensity level.
Exercise requires a huge time commitment!
This is simply not true. As a basic rule of thumb we should strive for about 30 minutes of continuous exercise each day for maintenance—to maintain your current weight. Sherry, one of my clients, lost all her weight (45 lbs) performing 3 workouts per week and a sensible nutrition plan. From personal experience training pro athletes and average people, "If you really want the body of your dreams, you'll have to work out about 5 hours per week with a rigorous program that involves aerobic, anaerobic, and strength-training exercises." However, a 20-30 minute walk each day will help deter the effects of obesity and heart disease. And, combined with a good nutrition plan, will keep you active, healthy, and feeling good about yourself.
If you exercise you can eat what you want!
Are you joking? No, absolutely not, you just need to make wise choices. First, if you have not already done so, begin a regular exercise program. Second, a healthy diet goes hand-in-hand with a sound exercise regimen. For weight loss, eat more fruits and vegetables. Limit your intake of carbohydrates to about 40-55 percent of your daily calories. Also, eat fewer sugary foods. Stay away from soda pop, candy, ice cream and such. These should serve as treats (once or twice per week only) for your hard work in the gym. To weigh less, eat less. Estimate the number of calories you should eat each day, check your body fat, and other factors to help you on your way to a healthy lifestyle. How many calories do you need? Again, multiply your desired body weight by 10 then, add 200 calories. This is the amount of calories needed for no exercise. For example, Susan wants to weigh 110 pounds thus, (110 x 10) + 200 = 1,300 calories per day, without exercise to maintain a body weight of 110 lbs. As a note, a Quarter Pounder with cheese, small fries and small coke at McDonald's is 930 calories or, in Susan's case, 82% of her daily calories. Thus, you can see why it is important to make wise food choices.
Tip: Several apples per day or other fruit is too much sugar. As an example, movie trivia stated that Mel Gibson gained 10 pounds during the filming of Braveheart, despite his daily diet of apples. News flash—the weight gain was because Mel ate so many apples—too much sugar despite it being from fruit! Sugar is the number 1 enemy of weight loss.

There is a Magic Pill for Weight Loss?
The only magic pill you will find for weight loss is from the advertising gimmicks of nutritional supplement companies, celebrities, and generally other famous persons that often use deceptive, misleading, or fraudulent advertising claims to sell their products. Good supplements are just that, a supplement for the body that will help provide additional nutrients after a workout or to help maintain good health. There is no quick fix to being lean and mean unless you have both a personal trainer at your beckon call and several chefs. The only way to achieve successful weight loss, long term, is to change your lifestyle and incorporate a good fitness program with a good nutritional regimen. But, there are always methods to drop a few pounds quickly—these methods are only for a temporary, short-term fix. Do not buy into the fads.
Advertisement: Ivanko (click on photo for more info)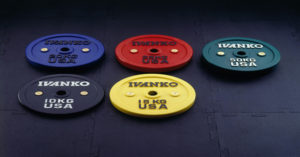 Continue reading My Health Express and exploring the My Health and Fitness website to increase your foundation and expertise in this subject area.